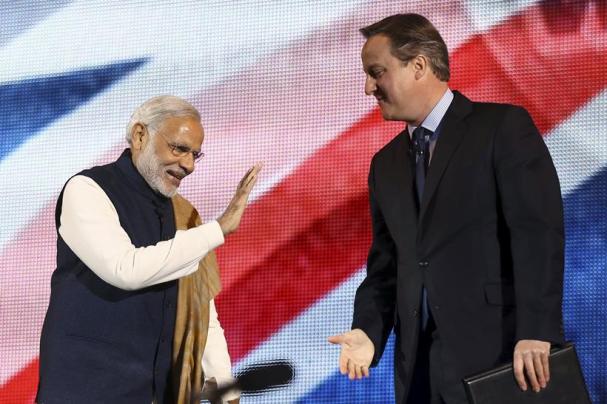 Image Credit: Indian Express
A few weeks ago China's President made a visit to the UK to discuss the improvement of trade between the two countries, and now India's Prime Minister, Mr Modi, has met with David Cameron to discuss bilateral deals worth around £10 billion. Is Mr Cameron making a point that the UK would be better off outside of the EU, where these kinds of deals would be much easier to accomplish without all the EU red tape?
Mr Cameron believes that these are countries with whom Britain should do far more business, but with previous plans, like doubling trade with India between 2010 and 2015, failing, what makes this trip any different?
India is emerging as the strongest economy out of the Bric nations, Brazil, Russia, India and China, and is growing at 7% per year.
Earlier this year the UK Trade and Investment (UKTI) released a report confirming that India is now the third-largest source of foreign direct investment into the UK, which increased to 64% in 2014. The UK India Business Council estimated that the total value of Indian investment in the UK totalled at £1.89 billion by the end of 2014s financial year, and 110,000 people are now employed by Indian companies.
Talking to the BBC, Alpesh Patel of Praefinium Partners, said "that the ease of doing business in the UK, as well as the English language and familiarity with UK institutions, also makes the UK an attractive proposition for Indian investors." But this works both ways, by 2015 the UK had invested £14.5 billion in India according to CBI, making the UK the largest foreign investor.
With Mr Modi's trip dubbed a success, more investment in the UK can only be a good thing. But should UK based companies now look outside of the EU, to countries like India, if they want to grow their business internationally?